What is Rated?
Rated is a digital space where you can broadcast, shop, and earn. We run off unapologetic product honesty and allow you to share your voice in the world of online fashion and beauty. Through live video, Rated encourages authentic interactions between like-minded individuals.

What's the difference between a Curator and a User?
A Curator is anyone who shares their fashion and beauty knowledge through video. Whether you're selling products from your own independent brand, or just wanting to talk about your favourite makeup product, this is the place to express your personality.
If you're not ready to start selling and earning just yet you can stay as a User and browse everyone else's videos to your heart's content.

Can I sell my own products on Rated?
Yes you can. Whether you've started your own independent brand or just think some of your clothes could go to a better home you can sell any fashion or beauty products (unused makeup, of course) on Rated. But please don't sell your grandads slippers, no one wants those.

We don't charge to list an item, however there is a 6% Rated fee + PayPal or Stripe transactional fees when you sell an item. Check PayPal and Stripe for a full breakdown on their fees.


How do I tell if a video is live or pre-recorded?
Every live video will have a little logo in the top right corner which will change colour depending on if they're live or not. This picture below should help too.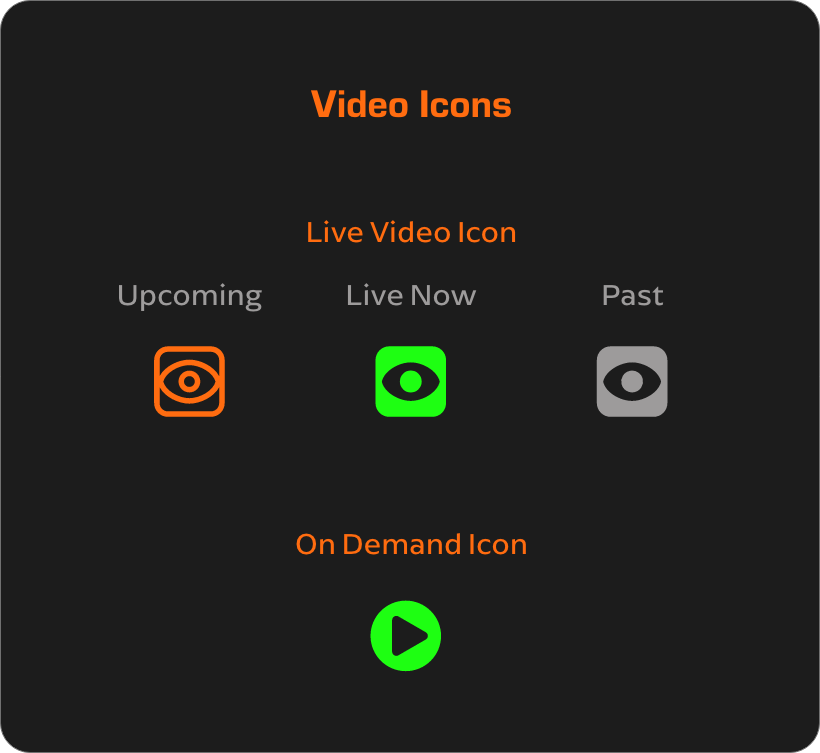 How do I get notified of a live video?
Next to every upcoming video there will be a 'Notify Me' button. Tap that and it will change to orange, you will then receive a notification on your phone once the Curator is live.

How do I buy on Rated?
If you're buying a product from an established retailer you will be guided to their website by clicking the 'Go To Retailer' button.
If you're buying one of our Curators products then click on the product you like, select your size and tap 'Add To Bag'. A little red number will then appear in the shopping bag icon on the top right of the screen, click that and fill out your payment details. You will then receive an order confirmation email from us.

How do I check my orders?
Head to your profile, tap the 'Settings' icon in the top right and click on 'Orders'.

How do I cancel an order?
Unfortunately, you can't cancel your order from a Curator once it's been made, so we suggest contacting the Curator directly to arrange a cancellation or refund.

How do I get a refund?
If you're looking for a refund for a product bought from an established retailers website you will have to follow their refund instructions directly.
If you're unhappy with a product you've bought from a seller on Rated the refund should be arranged between you and the seller. We recommend buying through PayPal so you can open a dispute easily with them by following these steps.
If you didn't buy through PayPal and need to open a dispute please email dispute@rated.global.

Is Rated only available on iOS?
Currently Rated is only available for iOS but stay tuned for a Google Play version soon.

What countries is Rated available in?
Rated is currently only available in the UK.
I don't know what to do for my first video - help
You have complete creative freedom when it comes to your videos, but here are some ideas to get you started.
Film a look of your all-time favourite makeup products
Go live and show off your recent streetwear purchases
Do a live workout and put your brand new activewear to the test
Show everyone your ride or die skincare products
Put your new sneakers to the test at the skatepark
Recreate some of your favourite celebrities outfits
Create a makeup look using all cruelty-free and vegan products
Test how long-lasting your foundation really is
Film a day in the life style video and show everyone your favourite spots to shop for vintage clothes
Talk about how you founded your independent brand and got into reworking clothes