Post Kulture Limited T/A Rated, a limited company registered in England and Wales under company number 08618531 with its registered office at 86-90 Paul Street Shoreditch London EC2A 4N hereinafter referred to as ('Rated' 'We', 'Us' or 'Our'), have created this privacy statement ('Statement') in order to reflect the transparency requirements expected of Us by law and Our own ethics. In this Statement, references to 'You', 'Your' 'User' and 'Curator' are references to User of the App and Platform at rated.global.
Your privacy is extremely important, and We are happy to comply with the law and provide You with clear and transparent information about how We use Your PD. We only process it for the purposes outlined and We process as little of it as possible.
Our aim is not to be intrusive and We undertake not to ask You irrelevant or unnecessary questions.
We will try Our best to keep Your PD accurate and up to date but do try to help Us with this too please! We also have robust measures and procedures in place to minimise the risk of unauthorised access and to keep it secure. Also, We only share it with third parties where We have a right to do so and where We are satisfied that the third party shall treat it with the same or higher levels of respect.
This document outlines how We process Your when You use Our Platform or otherwise communicate with us including by email or telephone. We are committed to respecting Your privacy and protecting Your PD. For the purpose of the Data Protection Legislation, We are the Data Controller (ICO registration number: ZA252105).
For all matters relating to privacy and data protection, please contact Our Data Protection Manager (DPM) by emailing privacy@rated.global.
This Statement incorporates Our Cookie Policy, Curator Terms and Terms of Use as applicable by this reference.
We might make changes to this Statement but if We do, We will, where appropriate, notify You by email, or, when You next log in, the amended version (and specific terms) will be displayed on-screen and You may be required to read and accept them to continue.
1. How Do We Process Your Personal Data?
1.1 Personal data you provide to us voluntarily: In order for Us to provide You with Our Services, We need to process some of Your PD. We understand that Your PD belongs to You and You provide it to Us on trust that We will use it lawfully i.e. appropriately, proportionately, only in respect of the stated purpose and We will only hold on to it for as short a time as possible. Most important of all, We must have a valid lawful basis for processing Your PD. Rather than have lots of paragraphs of text where all these transparency requirements are scattered throughout this Statement, We hope You find having most of it all in one eyeshot in Our tables easier to navigate: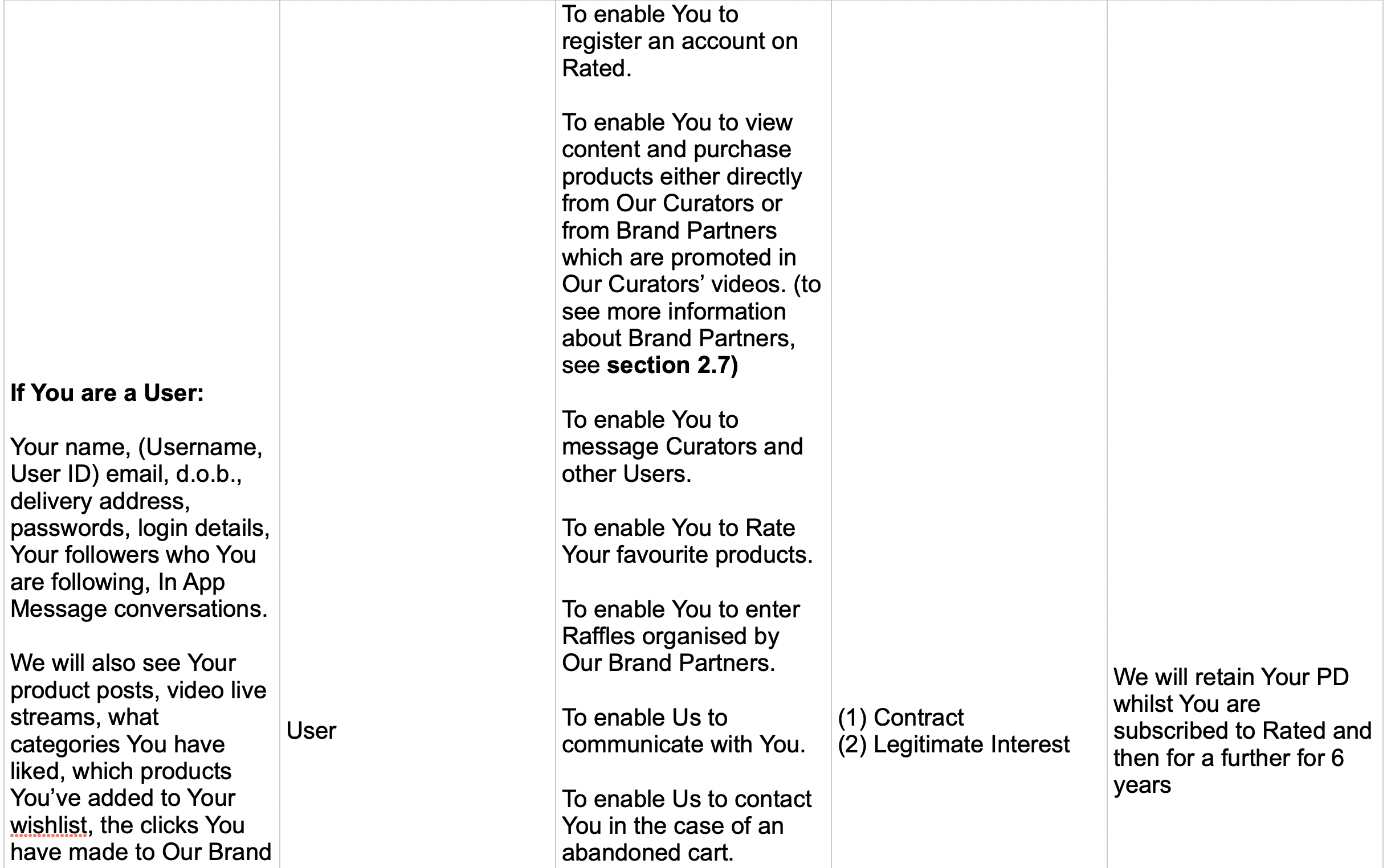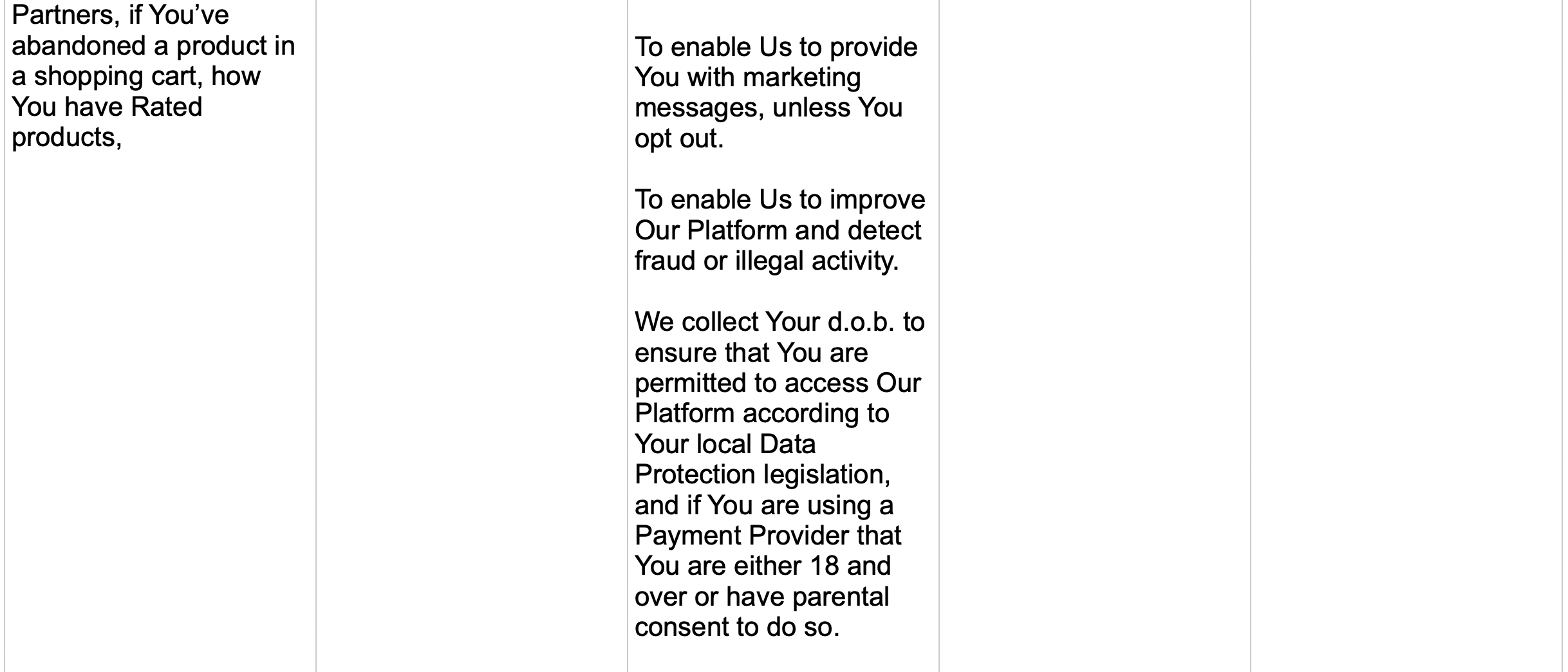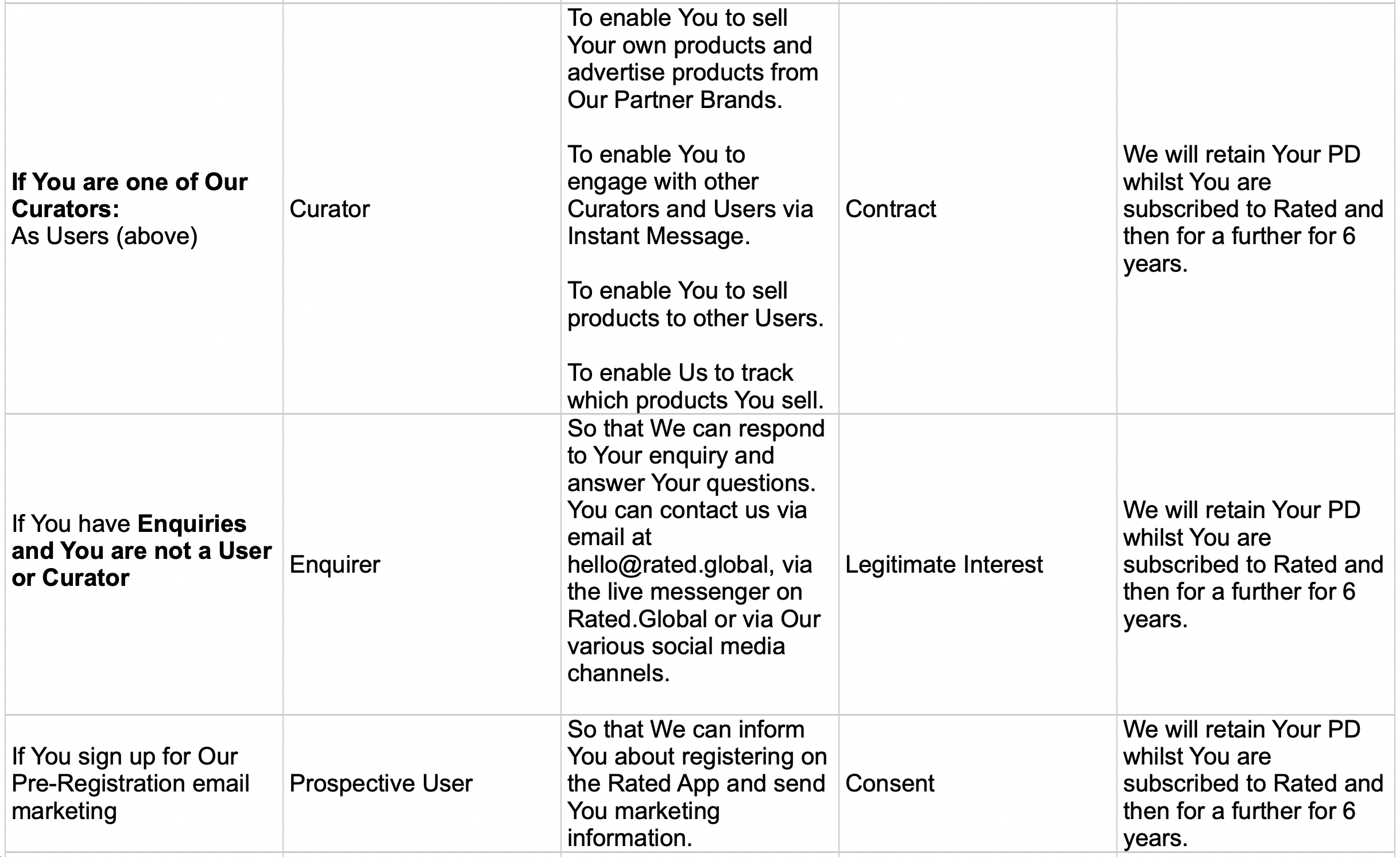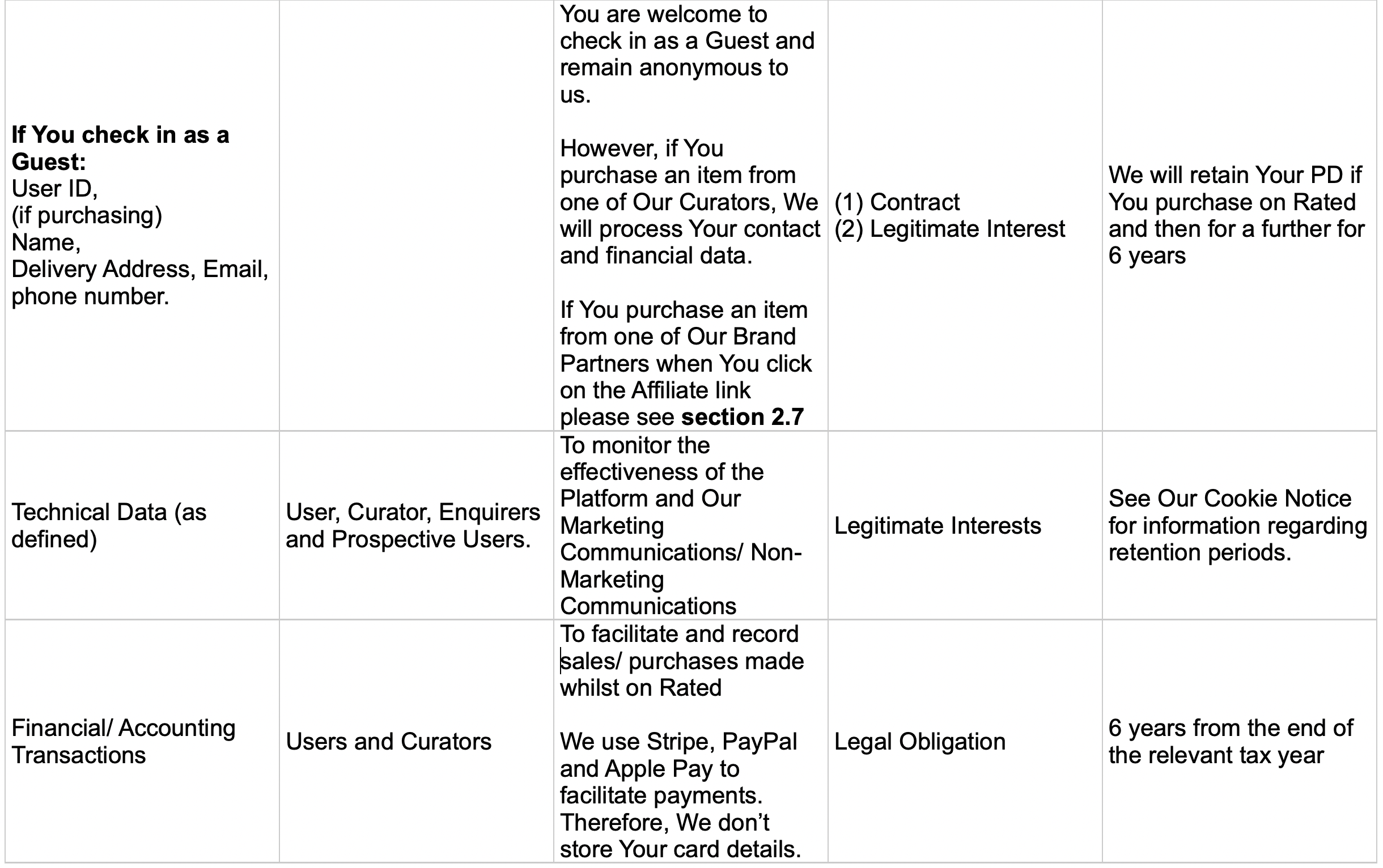 Links from the table above:
Artice 6 GDPR
1.2 We are a growing organisation and We want to be of value to You during Our relationship so if We ever require further PD from You or if We would like to use Your PD for a different purpose, then We will always provide You with additional information about this at the point that You are invited to make use of these additional services.
1.3 Our retention rights: How long We keep Your PD depends on the context in which You provide it and the purpose for which We use it. See the last column in the table above. Do note that We need to retain sufficient information about You in compliance with certain legal or statutory requirements, for example, in the event of a legal or insurance claim in the future so that We can identify You.
1.4 Where We state that We rely on consent to process Your PD for a particular purpose, You have the right to withdraw Your consent at any time. This will not affect the lawfulness of processing carried out by Us which was based on consent before its withdrawal.
1.5 Technical data we pay process when you use our services: This typically relates to Technical Data involving the use of cookies and other technologies. This data is typically processed via the use of first party cookies, or third party cookies (e.g. where We use third party services by way of plugins or other software licensed to Us by a third party e.g. analytics related to the use of Our own Platform OR cookies set by operators of a third party service such as social media and file sharing networks e.g. Twitter and Facebook).
The types of data obtained about You may include Your e.g. visits to the Platform; page views, downloads, navigation and exit; IP address; geographical location; browser type and version; operating system; referral source; length of Your visit ('Technical Data').
This enables Your online activity to be tracked and for advertisements to be targeted to You (subject to Your cookie consent management preference settings). To learn more, please see Our Cookie Policy. In-App messaging is Our secure form of communication and Your PD is not visible to anyone except Us. We have the right to read and review messages as set out in Our Service Terms.
2. How Do We Use Your Personal Data To Communicate With You?
2.1 Non-marketing communications: You acknowledge that, Your PD may be used by Us (or a Service Provider on Our behalf) to contact You when necessary in connection with Your use of the Platform and to access Our Services as follows:

Links from the table above:
Artice 6 GDPR
2.2 Marketing communications: From time to time and with Your lawful (express or implied) permission, We (or a Service Provider on Our behalf) send You Marketing Communications (and monitor whether You have opened the communication and clicked on any included links which will enable Us to understand Your level of engagement/ interest in the communication We are sending to You). We want to keep You interested!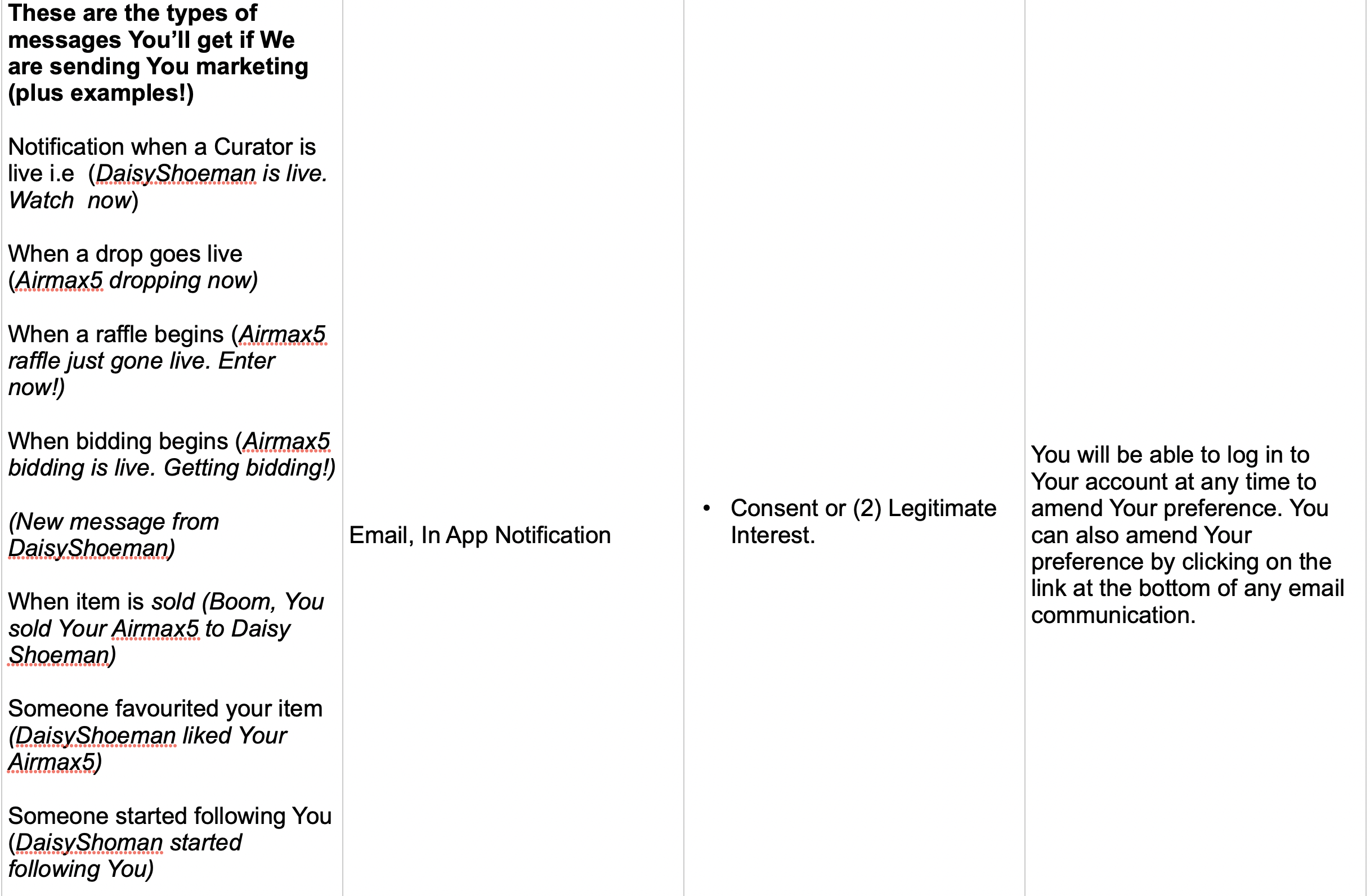 Links from the table above:
Artice 6 GDPR
2.3 Marketing communications from us: If You agree to receiving any of the above Marketing Communications but later change Your mind, You can opt out at any point, by amending Your account preferences on the Platform. Alternatively, You can use the 'unsubscribe' link at the end of any electronic communication received by You or simply respond to Our prompt in all of Our communications to You. If You opt out of Our communications, We will retain Your PD on Our suppression list so that We comply with Your wishes not to be contacted again.
2.4 Legitimate interests to process your personal data: We may process PD about You where We rely on "legitimate interests" as Our lawful basis. Where this is the case, We will have carried out an assessment to determine that We have valid and lawful rights to do so. Despite this, if it bothers You, You have the right to object to any of the processing We undertake by completing Our Data Subject Rights Request Form.
2.5 Profiling: We may from time to time use demographic information to determine who We target for specific events or marketing campaigns so as to avoid contacting individuals unnecessarily. This means that We may send You marketing based on Your preferencesYou have the right not to be subject to a decision based solely on automatic processing (Article 22). We undertake profiling when You have visited Our Platform or Facebook Page or send Our email marketing campaigns or In App notifications. Where this is a result of cookie activity, You can manage Your cookie preferences via Our Cookie Preference Management Tool.
2.6 Research & statistics: We may use communications information to compile anonymous statistical reports showing information like the number and type of query and how each has been resolved. Occasionally We will use information provided to develop case studies for learning and development purposes. We will be very careful to ensure that any information that could re-identify a person is removed or changed to preserve anonymity.
2.7 Other websites or applications & their policies: The Platform may contain links to other websites or applications, such as the Brands Partners, and Retailers We work with. We are not responsible for the privacy practices or policies or for the content of such websites or applications of such third parties, so You should be careful to read and understand those policies independently.
3. Who Has Access To Your Data & Where Is It Stored?
3.1 Third parties: We may engage or collaborate with a Third Party for a variety of different reasons. This may be in relation to the performance of Our business and daily operational functions on Our behalf to enable Us to fulfil Our Services only (including making improvements to Our Services). Where it is necessary to share Your PD, We will limit the PD that We share to the minimum required to provide the Service and the Data Processor (or Data Controller) will only be able to use it for the specific purposes for which it was shared. If We stop using the service of a Data Processor, We ensure Your PD is deleted or securely returned to Us.

The last column relates to where the PD goes and what safeguards are in place in the recipient territory where it is transferred/ stored. It will be one or more of the following:

Links from the table above:
European Commission adequacy decision
If You would like more information about any of the transfer safeguards We implement please contact Us using the details as set out at Clause 5 of this Statement.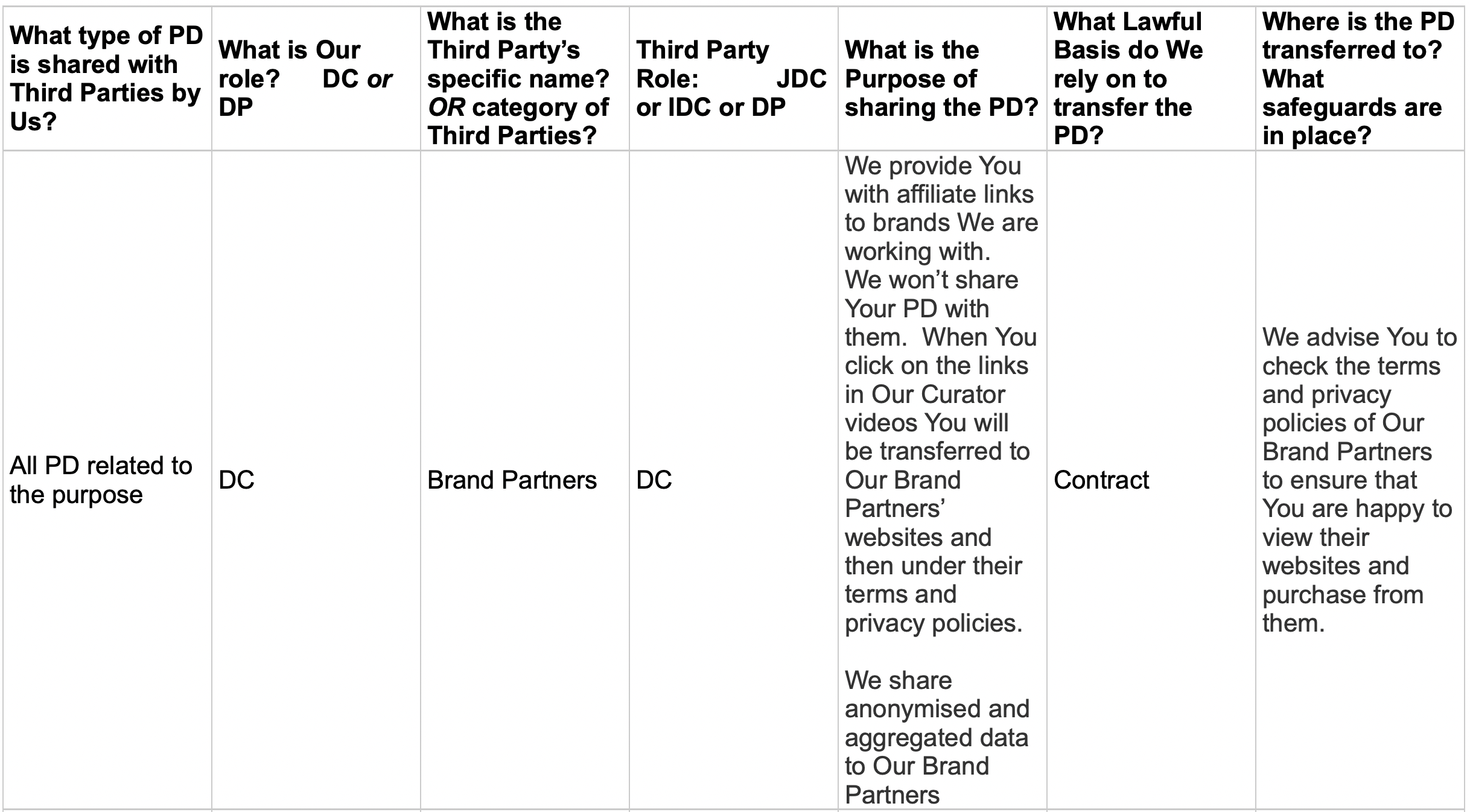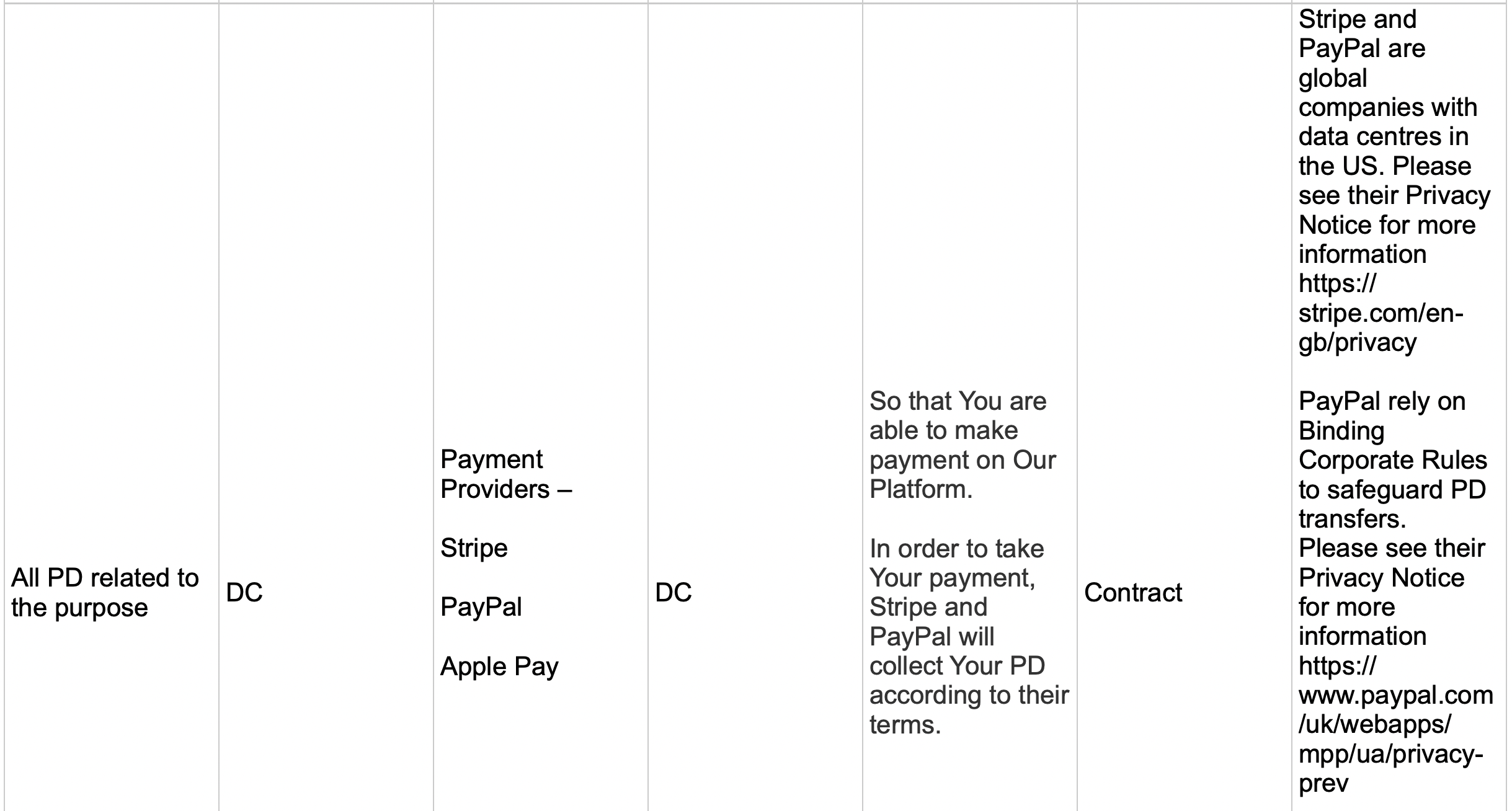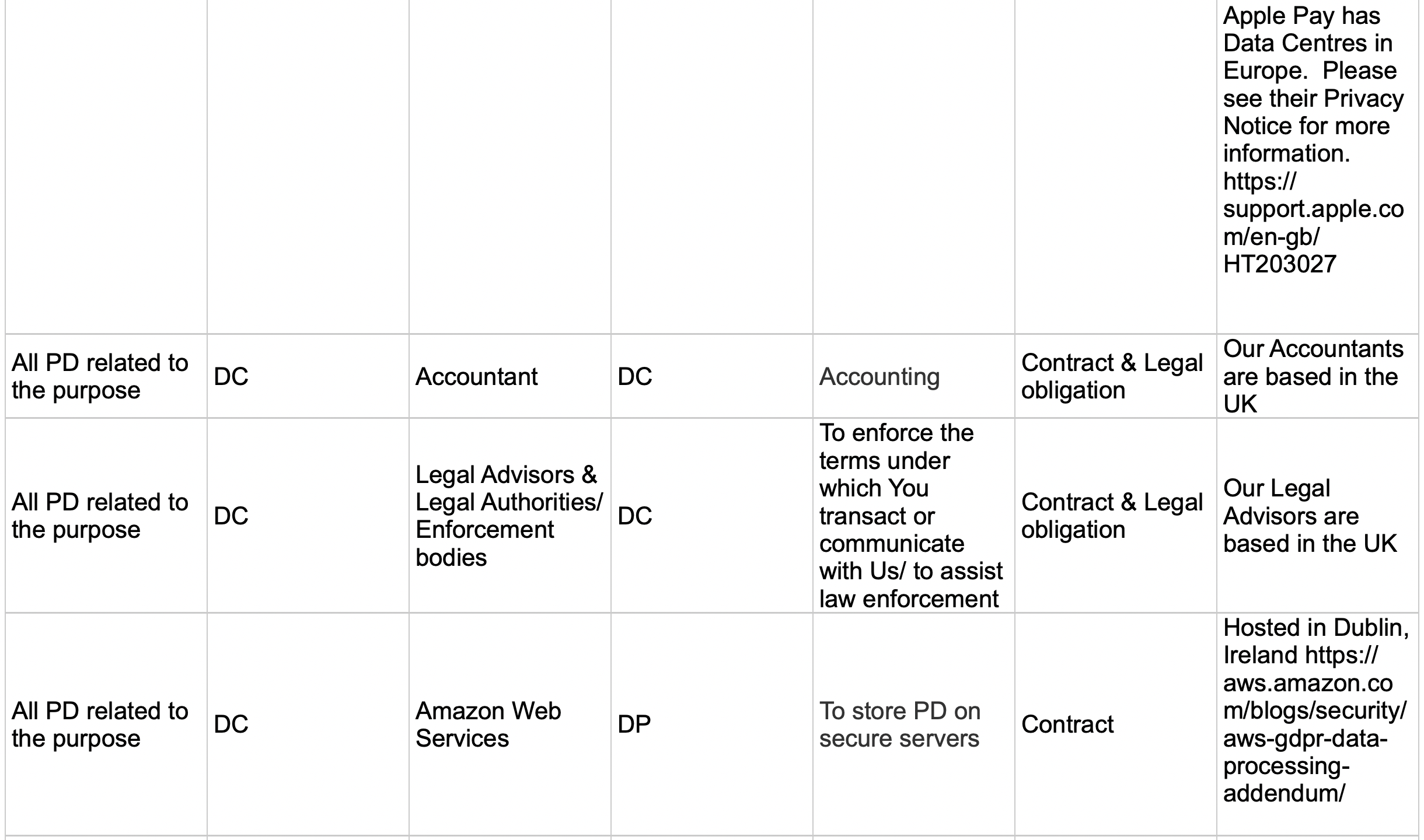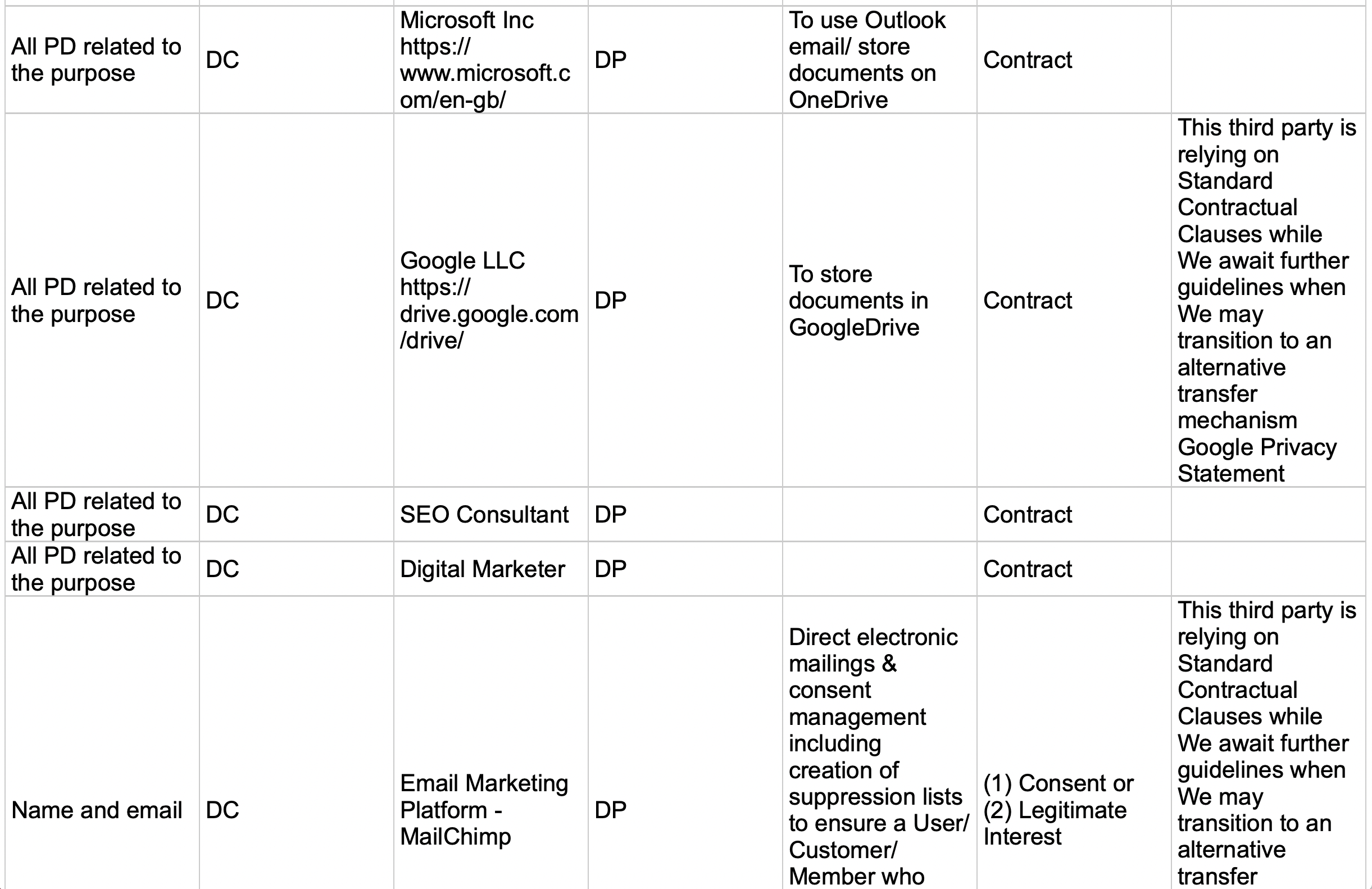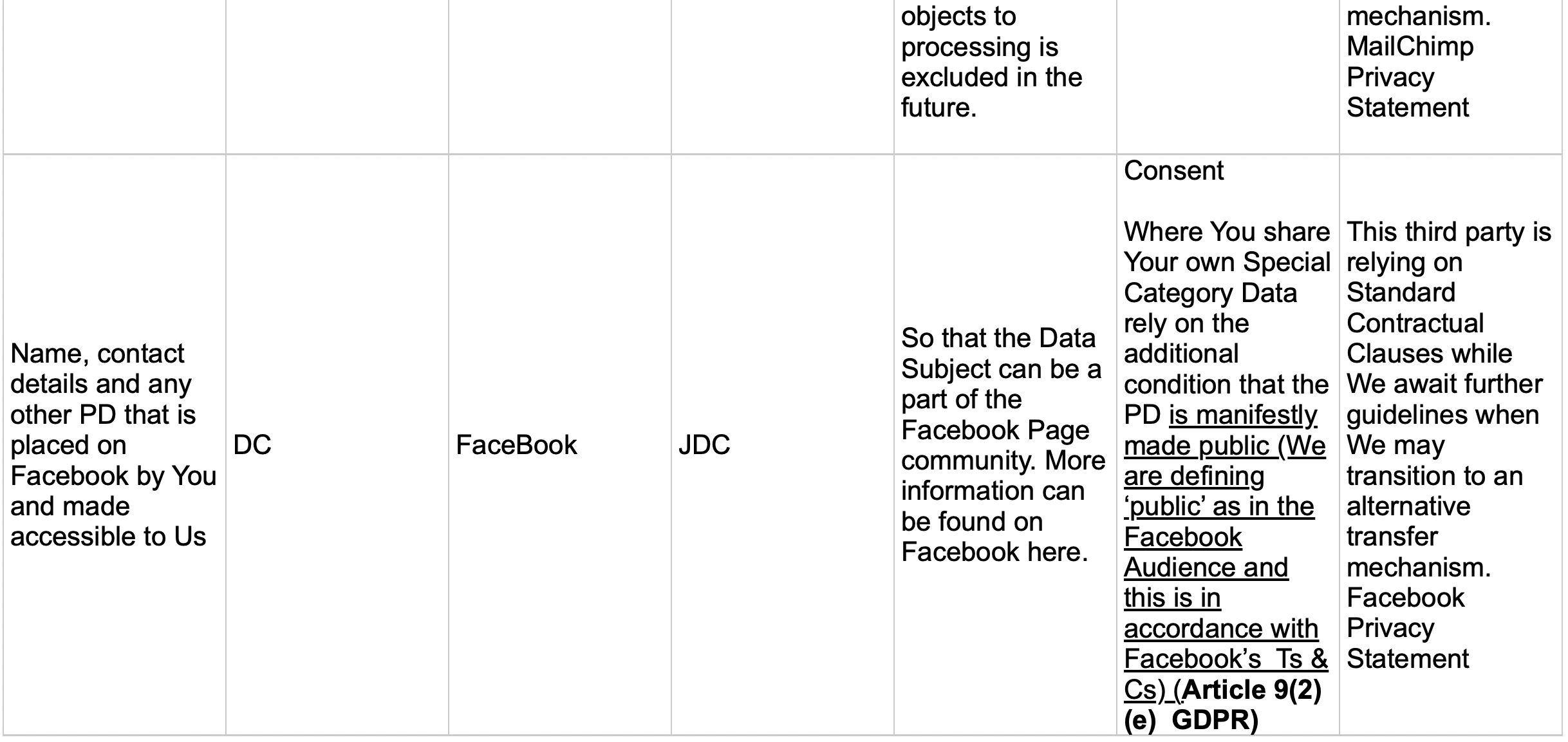 Links from the table above:
Amazon AWS GDPR Processing Addendum
3.2 Transfer of Personal Data in the Event of the Sale of Post Kulture Limited or its Assets: In the event that Post Kulture Limited is sold or transfers some of its assets to another party, Your PD could be one of the transferred assets. If Your PD is transferred, its use will remain subject to this Statement. Your PD will be passed on to a successor in the event of a liquidation or administration.

4. What Are Your Rights Under Data Protection Legislation?

4.1 You have a number of rights that You can exercise free of charge and on request in certain circumstances, however, if Your requests are obviously unfounded or excessive, We reserve the right to charge a reasonable fee or to refuse to act. You have the right:
To be informed about the collection and use of Your PD. This is what this Statement fulfils:
To access Your PD and supplementary information ('DSAR');
To have inaccurate PD corrected, or completed (if it is incomplete);
To have Your PD erased;
To restrict Our processing of Your PD;
To receive a copy of any PD You have provided to Us, in a machine-readable format, or have this information ported to a third party;
To object AT ANY TIME to processing of Your PD for direct marketing purposes;
To object in certain other situations to the continued processing of Your PD.
For more information on these rights and when You can exercise them, see the Information Commissioner's Guide.
4.2 If You wish to exercise any of these rights, please complete Our Data Subject Rights Request Form. We will respond to You within one month from when We receive Your request, unless the complexity and number of requests We receive means that We need more time. If We do need more time (up to two further months), We will tell You why within the first month. If You live in California, please see section 6
5. How Can You Submit A Query or Complaint?
Query: We are happy to provide any additional information or explanation needed in respect of Our processing activities upon request. For all matters relating to privacy and data protection, please contact Our DPM.
Complaint: We try to meet the highest standards when processing Your PD. For this reason, We take any complaints We receive about this very seriously and We encourage You to bring it to Our attention. While We hope to be able to resolve any concerns You have about the way that We are processing Your PD, You have the right to lodge a complaint with the Information Commissioner's Office (ICO) (or with the supervisory authority of the European Member State where You work, normally live or where the alleged infringement of data protection laws occurred) if You believe that Your PD has been processed in a way that does not comply with the Data Protection Legislation or have any wider concerns about Our compliance. You can do so by calling the ICO helpline on 0303 123 1113 or via their website here.
6. IF YOU ARE A RESIDENT OF CALIFORNIA: The California Consumer Privacy Act (CCPA) gives You enhanced rights over Your PD. You have a right to opt out of Your PD being sold to a third party.
You also have a right to know:
What information We have about You
What categories of PD We have collected
Where We have sourced this PD
What categories We may have sold or disclosed about You for Our business purposes
What categories of third parties We may have sold or disclosed Your PD to
The reason We collected or sold Your PD
Rated does not sell PD to third parties and You are able to find out information about who We share Your PD with, and for what purposes in section 3.1.
If You would like to make a 'Request to Know' or 'Request to Delete', please contact us by email at privacy@global.rated and complete Our Data Subject Rights Request Form. We will then comply with in the mandated 45 days or inform You if an additional 45 days if needed.
Please see Our Cookie Consent Preference Management Centre for details on Do Not Track
7. Do We Use Cookies?
For information about cookies and how they are used on the Platform, please visit Our Cookie Consent Preference Management Centre accompanied by Our Cookie Policy.
8. Changes To This Statement:
We keep Our Statement under regular review and will update, in line with the CCPA, every 12 months. This Statement was last updated on [insert date].
9. Definitions & Interpretations:
Data Controller or DC or JDC or IDC: means the natural or legal person, public authority, agency or other body which, alone or jointly with others, determines the purposes and means of the processing of PD (Article 4(7));
Data Processor or DP: means a natural or legal person, public authority, agency or other body which processes PD on behalf of the Data Controller (Article 4(8));
Data Protection Legislation: means, as applicable to either Party:
(a) the General Data Protection Regulation 27 April 2016;
(b) the Data Protection Act 2018;
(c) the Privacy and Electronic Communications (EC Directive) Regulations 2003;
(d) any other applicable law relating to the processing, privacy and/or use of PD, as applicable;
(e) any laws which implement any such laws; and,
(f) any laws that replace, extend, re-enact, consolidate or amend any of the foregoing.

Data Protection Manager (DPM): Contactable on privacy@rated.global
Data Subject Access Request or 'DSAR': refers to right of access as further described in Clause 4.
EEA: refers to the European Economic Area which consists of all EU member states, plus Norway, Iceland, Liechtenstein.
Electronic Mail: includes but is not limited to email, text, video, voicemail, picture and answerphone messages (including push notifications).
General Data Protection Regulation or GDPR: the General Data Protection Regulation ((EU) 2016/679). PD is subject to the legal safeguards specified in the Data Protection Legislation including the GDPR.
Marketing Communication(s): refers to any communication whether by an Electronic Mail method or otherwise that We send to You (either directly or via a Service Provider) which may include but are not necessarily limited to relevant newsletters and magazines, information about opportunities, products, services and events and relevant information.
Non-Marketing Communication(s): refers to any communication which is functional/ administrative only as distinct from Marketing Communications.
Personal Data or PD: has the meaning set out in the Data Protection Legislation and shall include Special Category Data (as applicable).
Service Provider(s): refers to a Third Party with whom We work with from time to time as a necessary part of providing Our Services and with whom We may need to share Your PD.
Services: refers to Our Services We may provide to You.
Special Category Data: has the meaning set out in the Data Protection Legislation.
Technical Data: refers to that at Clause 1.5 which is capable of being considered PD.
Third Party: refers to a Data Processor or Data Controller with whom We may need to share Your PD. This includes Service Providers as applicable.
Contains public sector information from https://ico.org.uk licensed under the Open Government Licence v3.0 [[http://www.nationalarchives.gov.uk/doc/open-government-licence/version/3/]].